Stage One – Business Set-Up
Business Set-Up is stage one in an effort to launch or reorganize a business. As a service-based company, we have explored, tested, configured, and redefined the many tools needed to cost-effectively and time-effectively operate our services. To follow is a list of platforms we recommend.
Every business we've worked on behalf of has some common needs. Some companies require more extended tools than others, but all of them have these basic requirements to operate in the digital world. Beyond those listed below, some require other extended tools, such as team project management, accounting, and billing,  customer relations management, and marketing tools. 
Stage One – Business Set-Up
In this first of a series of blogs, we'll focus on domain management, and email/document management. 
DOMAIN MANAGEMENT. 
Before you can set up your business to function, you'll need to establish your business identity. This requires registering a domain for your business. 
There are many options for domain management, but we've set up i2webservices.com as an easy-to-use platform, where you can search and secure the domain you choose, from a wide range of extensions — .com, .net, .org, .xyz, .io, or others, or specialty extensions such as .restaurant, for example. (This platform also provides access to hosting, and other tools, which will cover in forthcoming blogs.) 
EMAIL MANAGEMENT
Certainly, there many options to manage your email. There are many FREE options, such as Google GMAIL, and AOL, for example. 
However, if you're spending the time and money to set up a business, branding matters. So we encourage you to establish a company email. It is simply more professional to have [email protected] than [email protected] or [email protected], etc. 
You can set up an email(s)within your i2webservices.com account for a nominal cost. But a more productive option would be either Google Workspace, or Microsoft Office 360,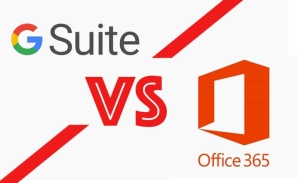 We've experimented with both, and chose G-Suite. The reasons are many, but in short, we found that:

Google Workspace (formally G-Suite) bundles email, Docs, Spreadsheets, Presentations, Sites, Groups, and drawings — with access to all the other Google products, such as Keep, Analytics, AdWords, AdSense, Current and others all with single access from the login menu.  This saves time, provides fluidity, and organization.  Moreover, Google developed multiple user collaboration in REAL-TIME within the tools 

While Microsoft has great technology, we found Google to be more intuitive to use, and that Microsoft products tend to provide many functions that most companies will never use, making it a far more complex learning curve. 
To get your business setup, we advise you to do so in stages, and registering your business domain and branded email is Stage One. 
Once you've set up your email, be sure to read How To Protect Against Identity Theft. And when you do decide to set up a business, be aware of The Crisis of Entrepreneurship, and 6 Tips for People On The Go.
Stay tuned for our next blog post where we'll tackle marketing management — social media, inbound marketing, and outbound sales tools to attract, engage, and convert followers into evangelists and customers. 
Need help?  Create a support ticket and we'll set it up for you.
About us and this blog
We are a digital marketing company with a focus on helping our customers achieve great results across several key areas.
Request a free quote
We offer professional SEO services that help websites increase their organic search score drastically in order to compete for the highest rankings even when it comes to highly competitive keywords.
Subscribe to our newsletter!
There are 10 simple eCommerce email ideas that will increase ROI. You…
[easy-share counters=1 counter_pos="inside" native="no" hide_total="yes" fullwidth="yes" fullwidth_fix="100"]