Let us help you grow your business through the web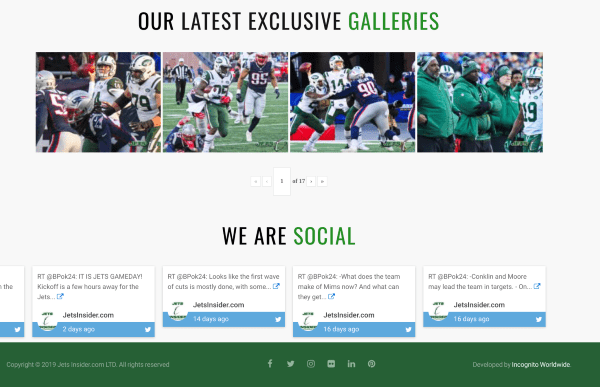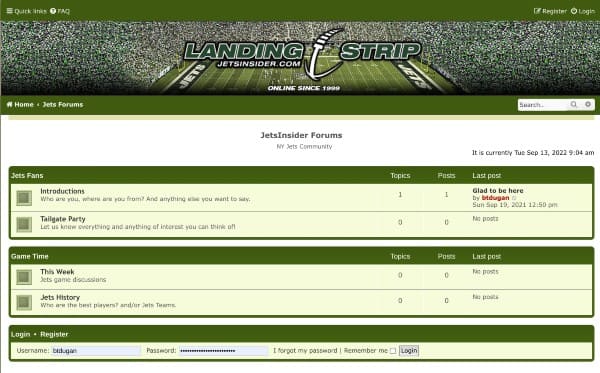 Challenge
The old website had been online for a decade and as it grew kept adding on and patched together until it became dozens of individual sites, one for each writer, with the technology severely out of date. So we needed to develop a new site that could be a single site that captured all the functionally elements required. The new priority was as a magazine first to feature articles and field-access photos and videos, and secondly a photo gallery, events listing, and lastly a private discussion forum. 
Solution
WEBSITE: Jetsinsider.com
We used the WordPress CMS framework with some modifications on top of it. The dashboard allows the owner to have a multitude of writers and photographers and set permissions for each. 
The site features articles and field-level photos of all the NY Jets games., as well as a table to present the game season schedule. We integrated and displays content from Twitter on the home page, and Instagram in the photo gallery, plus there is a separate editorial archive gallery. And lastly, we installed a third-party forum and integrated it into the website. 
I2WEBSERVICES.COM hosts the site, and Incognito Worldwide provides monthly SEO maintenance, as well as technical support that maintains the site's health in the high 90s percentage.  
Results
The original website was replaced by this new one in 2015.
From The Client
"The Incognito Team and Bruce have been hands-on assisting me since I bought the online property a few years ago. Not only do they manage the month-to-month maintenance, but they come up with ideas for me, such as moving the hosting to a new server that saved me $150 a month, or seeking out and setting up advertisers and affiliates programs.  They're quick to respond to my inquiries and requests, as well as come up with marketing and income strategies, whether it be running ads on the site, or entering into affiliate programs, they've handled it all for me. Great team that I can in good conscience recommend. "
Chris Nimbley -- Publisher
Website development for vacation rental company, plus directory, and SEO marketing
Get new blog posts by email: